4th September 2014
I've been back from Edinburgh for eleven days. Eleven days in Edinburgh goes slowly, and a month really slowly, with each day broken up into hours of intensity and variety where things can turn on a pin; black moods saved by a swim and a sauna, uppity moods drowned in a horrible feeling of invisibility, then relieved by a Zen moment of knowing we are all in the end invisible, plus a custard tart.
Watching one of the many shows about World War One felt a bit like watching a show about the Edinburgh festival itself. The insanity!  Regiments of drama students on the Royal Mile, at first so proud and optimistic,  trapped in dark burrows  with inadequate lighting for which they paid an arm and a leg.  Reviews handed out like white feathers by those who never go to the front themselves.  The WW1  one I saw was actually very good, and the audience member who had to leave before she heaved up from the smell of the chopped liver allegory business going on  had to walk through the actors to escape. A tip worth remembering.
My show  evolved and tightened all the way through the Fringe. I am not an actor and I wasn't going to act stuff out or mime elephants, and I wasn't going to tell jokes either, but a story has to go through its different paces, and entertain. Any comedy had to come from the truth and observation of a situation.  When things are funny people laugh, but when parts are interesting or dramatic, people don't do anything. In between the laughy bits I felt a bit of panic. I still find this hard to get used to.  Wouldn't it be brilliant if we emoted over everything? Gasped! Cried out! Scratched heads to express deep thought. But we don't. After a while I felt a bit like the young Isobel Adjani who says there were no mirrors in her childhood home and she had no idea of what she looked like or how she came across, and she felt very disorientated. I got feedback from friends, a four star review and audience members but what I needed was a director in situ to consistently tell me why it was better on some days than on others. The fab Colin Watkeys worked with me in London but now I was mirror- less.  The comedians before me solved this for themselves by forming a team between three stand-ups who did all the flyering, teching and feed-back for each others shows, and I think this is an excellent model.
A couple of people asked me if the stories in Raj Rage were true or if the letters existed. Hundreds of escaped women – and men- wrote their accounts of the Mutiny and these can be examined in the India Office Records Rooms of The British Library.
http://www.bl.uk/reshelp/findhelpregion/asia/india/indiaofficerecords/indiaofficehub.html
Mrs Goldneys letters are in this collection, donated by my Great Aunt Alice. But you can read them here:
http://charmianhughes.co.uk/quill/grannys-blog/
They had to be cut down to the chase for the show otherwise we would have been there all  night but otherwise all the words used in the Mrs Goldney sections are her own. The Victorians weren't that unlike us. They spoke like us, they used the same words. They were a bit more private and all their social relations were conducted with a bit more formality- even under duress.  Hence best friends formally addressing each other as 'Mrs.' My account of our modern Indian journey is further down this blog. The spectacular revelations in the show are not in the blog to protect the innocent.
Now I am back. Raj Rage is being performed as part of Face to Face Solo Theatre Festival on Wednesday 8th October at 7.30pm.
I am very excited about going to Edinburgh. Raj Rage has been very positively received in previews and when I have done little extracts, audiences have pleaded to know what happens next. It's the most prepared I've ever been and for that I have to thank three people:-
Mary Louisa Goldney who wrote a third of my show while on the run in 1857. Thanks Great Great Granny!
Matthew Robins who designed and painted the beautiful posters; there will be some available for sale.
Colin Watkeys who gave me lots of direction.
So if it all goes haywire, blame them.
https://tickets.edfringe.com/whats-on/charmian-hughes-raj-rage
Waiting on Elephant and Castle platform today, thought of the time we had deep snow in London one winter- when I was about ten- and, lonely girl, I didn't have anyone to go sledging with, but went on my own anyway to Kensington Gardens near where I lived cos it had a steep slope.
I talked to a boy my age; he didn't have any of the stand offishness of other children, and we sledged all afternoon.He had a tray and I had our old wooden toboggan. He'd come on his own too, all the way from Elephant and Castle.
'Where's that?' I said.
'Everyone knows the elephant' he said, like I'd stepped out of a Wellsian time machine or something.
At the end of the day I wanted to ask him to my house for tea, but I had a feeling my mother wouldn't like it.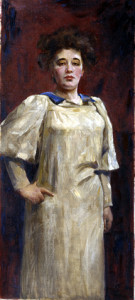 Yesterdays excursion: (Austrian) Facing The Modern at the National Gallery. Here, my fave,Teresa Ries, self portrait- resonates with her absent physical presence- her brush strokes, the work her paint has made are all there, as she stood close up to it to make it, like I do to see it; but the mirror is long gone, and so is she, and so will we . Everything was against her doing what she did, being who she was- female, Jewish, a Russian in Austria. Her face says 'Get on with it! You have work to do.'
After a morning in the chikan workshop of Lucknow where I buy a nightie voluminous enough to camp in, we are to take the train to Delhi, first class, a six hour journey of anticipated scenery and restful bliss.
At the station our man from Greaves Travel finds us a porter, a boy about the same age as my own, maybe younger, young teens. He wears a faded red tunic. He has the face of a film star. He puts a soft woollen cloth on his head and then raises my suitcase up onto it, balancing and carrying it aloft while pulling Kaye's along at the same time by the handle.  But our train isn't ready to depart for another half an hour and he twitches anxiously and obviously at all the wasted portering opportunities lost to him as he stands around on the platform waiting till he can offload our stuff. At last it's time to board and the porter lifts our cases onto overhead racks. Our man from Greaves doesn't tip him very much so we bung him a bit more, as he could have made some money in all this time he has been hanging around with us.
Armed with books, ready to recline and snooze after all those early mornings, we settle into our comfy but slightly scruffy seats with their bumpy bottoms. Railway food comes round several times, delicious veggie pasties, tomato sauce , a  little saucer of dry something or other pudding, which tastes like halva but isn't.  Each passenger receives a small thermal jug of hot water for our tea, a clever time saving device, they are collected minutes later and no need to hover over us with boiling liquids.
Then the wailing starts; a sick child, earache by the sound of it, shrieking piercingly and sorrowfully, for the next five hours. The mother jostles him, walks him up and down, feeds him, waters him, but doesn't give a different carriage a go at any time- which I ungallantly feel might help. I do feel very sorry for him, remembering my own children when they suffered like that, but  this unrelenting noise is the main sensory feature of what I hoped would be a  journey of staring out the window looking at unfolding landscape to a soundtrack of my own daydreaming.
We arrive in Delhi, this time a porter puts both suitcases on his head, one on top of the other,  and carries them up and down two or three different flights of stairs to where our car is waiting.
We get to our hotel late, but not too late to have a gin and tonic and some light grub before beddy byes.
I have been to Delhi before- twice. The first time was fleetingly in January 1972, at the age of 15, on my way back from visiting my long estranged army father in Hong Kong. It was the time of the Bangladesh war of independence, which involved India and Pakistan; Indian national security was at Level Paranoid and my flight was stopped overnight and my passport inexplicably confiscated. Three of us, me and two other younger schoolchildren, were put in the New Delhi Hilton overnight. Although we were given  a luxurious room each,  we were so terrified that we asked for camp beds to be brought in so we could share just one, and then so excited that we ordered curry for breakfast.  The next morning we glimpsed India through the murky panes of the airport bus as it took us back to the airport to resume our flight home. I remember the smell, colour, dust, bustle, the last bit of an amazing and exotic Christmas holidays.
The second time, twenty years later, in 1992, I landed in Delhi the day after the Hindus tore down the mosque at Ayodiah, bringing India to the brink of civil war with troops on the streets and curfews at every major historic and religious site. I spent a week hanging around, wondering what to do and where to go next, immersing myself in the old town and missing  New Delhi entirely.
This time, New Delhi is a complete surprise, Doric temples of beauracracy gracefully rising from wide avenues. I notice with this visit, as I've noticed in all the places we have seen so far, there aren't the beggars that there were last time, nor alarming looking people with terrible deformities and handicaps. Have they been rescued by social services or just hidden? 
We visit New Delhi, The tomb of Hamuyin and the Lodi Gardens. In the evening the Rajah's daughter collects us from our hotel and we go to dinner at their Delhi house. This seems to be the place where they can relax and be themselves. A chubby Labrador greets us in the garden; we sit and explore our family shared history. They want to hear some of my jokes and are simultaneously shocked and entertained by my husband material. I have to reassure them that David wrote most of it so it's OK! Bombay Sapphire gin is delicious and we eat late, India style, delicious fish, roasted on the bone, beautiful veggie and saucy accompaniments and a lovely pudding.
A journalist from the Times of India phones up and I give a telephone interview about my journey to retrace the steps of my Great Great Grandmother and how it has led us to this night, dinner with our new chums.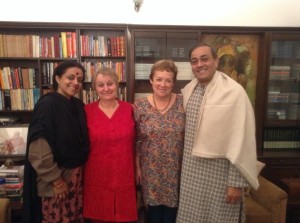 http://www.bbc.co.uk/hindi/india/2013/11/131117_mutiny_revisited_amethi_aj.shtml
 It is our last evening in India. We exchange fond farewells, hugs, email addresses, promises of everlasting keeper-up-ering. We get back in the big car and the Rajah and his daughter drive us home to our hotel.
Farewell India, Hello Peckham.
From Amethi Fort we drive to Lucknow.
It's late when we arrive at the Vivante by Taj Hotel, in the civil lines. There's a pool but it's too cold to go in. We eat in the hotel and drink gins and tonics in the bar.
The following morning we have a guide, Sanjay ,to show us around Lucknow. First the Mogul built palace, then the British Residency.   The Residency is laid out like an archaeological dig, a Pompeii, a Parthenon, but of near modern times, a bullet ridden cannon shattered citadel, left just as it fell,  the skeletons of people's lives in the brickwork; The doctors house, the Banqueting Hall, labelled by the current victors.  There's quite a bit of of glorying in the signage. Even though Queen Victoria's Indian empire was born from these very ashes as an answer to the  injustices of the East India Company, it was the first step in the road to Indian Independence. But there is something uneasy about the crowing; one tombstone mourns the death of a toddler, another a spinster shelled as she hid in the basement.
Here is Mr Gubbins house. He is mentioned in my Great Great Grandmothers escape letters. She wrote to him when she was sheltering at Amethi Fort begging for supplies of beer and tea to be sent to her , perhaps a little brandy, and cloth. He sent them so it must have just been before the siege.
In between the graves, on grassy knolls, in roofless enclosures and bullet riddled stones, young Indians court, it's a safe quiet place for them to do so. The girls arrive veiled, but the veils come off at the gates. They are for the parents friends who might recognise them.
We visit the Impala in the afternoon, huge Muslim building built as a project to employ the poor.  There are a lot of lone young men around and we experience the only harassment we get in India.
Kaye has already experienced an accidental 'bumping into' by a youth and we challenge him, supported by our guide.  Are middle aged ladies  some kind of erotic speciality? There is a labyrinth forbidden to couples and lone females, accessed by small narrow corridors and steps, and despite my dislike of heights we climb up into it. Endless corridors open into vast open air terraces with awesome views. A young man 'accidentally' touches me above my bosom as he squeezes past and like lightening  I deliver the Kill Bill 2 Five point palm exploding heart technique aka four fingered jab into his tum-tum , equally 'accidentally', and he loudly apologizes before his elderly parents, who are only steps ahead of him, get to hear about it. We visit another vast monument, strangely coldly similar, hung with strange lights.
Back to the hotel and huge excitement! The Rani has rung and the following morning we go for coffee at her house in Lucknow. We are picked up by car, in the front passenger seat sits a man with a machine gun. Being a politician is a dangerous business in India. We get to exchange some more of our shared history. In the Rajahs family version, Granny is a prisoner of the sepoys, her life is in the balance and she is brought before him and he guarantees her safety. But in her account, written only a couple of weeks after she reached safety, she is never a prisoner. She goes voluntarily to the Rajah of her own accord, though warned off by her own countrymen.
I have got quite close to this female ancestor separated from me by 160 years and feel very defensive about her and her ability to look after herself. If she was a prisoner then there isn't a story, or the story doesn't have her at the helm. Time has mythologized the event; everyone comes out with more clearly defined heroic roles. But we have her letters so we know that reality is messier. The Rajah was still her rescuer, it's just she wasn't remotely passive about it. 'I will go to the Rajah Massoodingh!' she commands, ignoring the advice of her Britisher companions and only weedy Mrs Stroyan  who has just had a baby wants to go too.
Granny Goldney was the kind of old gal who could have delivered the five palm exploding heart technique herself.
This is a truth that has to be negotiated with tact. I don't want to rain on anyone's political parade but  there must be a path through this that will leave us with two heroes and no zeroes!
Between Darjeeling and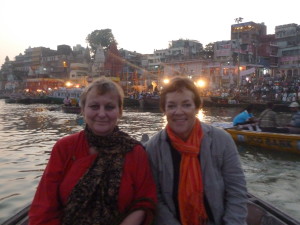 The Road Trip, we go to Varanasi.
We stay in a kind of fortress hotel where the tourists are insulated against the intense life and death spectacle going on in the town below them. Here you can eat what you want and wear what you want without fear of cultural or digestive contamination.
Too late for me,  a reaction to my malarial tablets  gives me a feeling of undefined uneasiness followed by something less ambiguous which started on the toy train in Darjeeling, so that I lay early in my bed by a crackling fire, continued on the winding three hour drive back down the mountain and intensified on the little  propeller engined plane to Varanasi.
In transit I get the second big laugh of my trip. In the ladies airport loo I have my head turned towards the the loo lady who I am thanking while at the same time walking forward and just miss walking into the wall. It's an oops moment, we both laugh and as I turn my head back to say bye, I fall off the steps sideways and just manage to recover my footing. Back in the lounge I am regaling Kaye with this tale when I see in the distance the loo lady howling as she demonstrates what had just happened in mime to her friend.
The Varanasi morning boat trip means another 5am rise before the crowds became too big.  A.J is our guide, a gentle intelligent thoughtful man.  We go out onto the Ganges in the dawn, pale light over bathing pilgrims, marigold coracles bearing small candles on the dark water. The rituals of the people are obviously very devout, sincere and also sociable. The women immerse themselves and then put on bright new dry saris that have been blessed. Funeral pyres can burn at any time by the water, but we don't see any. Instead the  water laps the oars as we weave among the people of the river like aspirant Richard Attenboroughs at the watering holes of the spirit.
We are back on the river in the evening, sailing by burning pyres on the gatts. A rickshaw ride back up the road is coloured by the tsunami of my inner tummy which has become more and more alarming throughout this day packed with temples and Buddhist sites, silk workshops and more temples. Earlier we receive puja at the Durga temple; all sorts of people are here doing their devotions- professional, traditional, peasant or trendy, all ages.  Their religion seems to be an emotional reality for them in a way that makes me wonder.
The acceptance of life and death and their vagaries seems even more real the next day with our driver and his motoring techniques. Initial alarm becomes acceptance as I realise that this driving in the middle of a pot holed road at seventy straight towards a truck, is simply the dance of life. You see the space, you seize it. Or the lorry seizes it. And then that space is the space where once you were and you get another chance in another being.
Amethi Fort                                                              In garlands behind the birthday Rajah.  
I'm jumping to today, Tuesday 12th November, after missing a few days blogging through tummy hell. I'll get back to those but right now I want to get this down while it's sharp.
Today was the second day of the Granny Goldney road trip. Our driver picked us up from our seventies-time-warped hotel (complete with pink plastic bathroom suite) in Allahabad at 5.30am accompanied by Zeeshan from Greaves Indian Travel who is our travel companion and navigator.
Zeeshan has seized the challenge of interpreting the Indian bits of Mrs Goldney's escape letter with enthusiasm and excitement. It's completely off the wall from the usual travels itinerary for him. He loves her story and thinks it would be a great Bollywood plot. We play casting the heroine games-we decide on a cross between Kate Winslet and Cait Blanchett.
We have to break it to Zeeshan that the amazing fort – Manda Fort – we travelled to yesterday, backtracking and looping around ever rougher backwaters, can't be somewhere Mrs Goldney stayed – we've been calculating the distance in the wrong direction! We spent most of yesterday looking for it and then magically it appeared behind locked gates at the end of a narrow village road. We thought it was enough to look at it from this point, and go on,but the driver finds an ancient retainer with a key and he opens it up for us.
We had to pass  through a tiny hinged opening cut out of the gate- made so that underlings would always approach or withdraw from the Rajah in a submissive crouch. The Zamindar ushered us through an uninhabited romance of pillars, courtyards, gardens, holi basin, and purdah quarters. No man except the king could enter the Purdah. The Rani's brother-in -law was bricked up inside the wall for breaking this code; the newer brickwork still clearly visible.
The caretaker unlocked for us the golden steepled temple only used by him and his fellow workers. He said his prayers and then brought out sugar for us just as had been given to my Great great grandmother a hundred and sixty years ago. We were touched and excited at this thought, but then as we worked out, this couldn't be the one mentioned in her escape letters. But Manda Fort is so beautiful and lonely, visited rarely by the USA dwelling owner, that  I am really glad our mistake meant she got some admiring company.
Back to today, we set off at dawn, drive down to the place of the confluence of the rivers where the great Kunbh Mela takes place every twelve years, fifteen million strong last February. Tents and stalls straggle the mudflats, a few early pilgrims and fishermen wander in the pale light. We are looking for a crossing place, where Mrs Goldney might have made her final dash to safety. We drive across a bridge to the other side- we are tracing her journey back to front. Down at Pampernou Gatt, still named so, she waved her hankie for hours at the Allahabd bank, across the wide stream, till she caught the attention of her rescuers. It's below us, but we don't stop, so much to do.
We reach Pretagarph, where Mrs G made her mad gallop from the mutineers; it's a busy narrow dusty town but has a distinct crossroads, maybe the place.
On to Sultanpur, her home for many years, decimated in the 1857 strife. She was born in Delhi, she uses many Hindi words in her letters – a natural usage from years in this country. We think if we can find the old civil lines we may see an old wall or archway re-incorporated into more modern buildings at best.
But on a town roundabout, the driver and Zeeshan soon have a gathering of men, young and old, surrounding them, offering directions. We take one of them with us, squished in the front seat, down winding unpromising streets. We pass through broken stone gates into a place of newish bungalows, and park. In front of them are a series of much older outbuildings. He tells  us these are the 'places where the British were'. Under the earth and dust we see brick road-workings, and the long low building, could be barracks or stables. A large building, made up of three pitched roof shaped buildings locked together, is historically known to the locals as 'the place of meetings' so is possibly a mess hall. I wander around the bungalows which seem to be built of reconstituted old brick. The hall, stable type building and crumbling structures now used to house old cars could definitely be what is left of the old Civil Lines.
Our helpful new friend shows us what remains of 'where the British were'.
I am pretty satisfied with all this but there always turns out to be more. We drive out of the gates but stop after a few yards after our new passenger points out another possibility.
We get out of the car again, he shows us a military house, the address is 1, officers Colony, Civil Lines, currently belonging to the Indian Militia, but it's too new. But then peeping below and behind it I glimpse something else, a very old villa, with crenellated roof edging, now-blinded windows, an old front garden leading to pointed gate posts, but divided into two abodes.
Is this Granny's house?
We walk around it; an old stone veranda, steps to the front door, arches closed up that would have once been airy almost cloister-like spaces. Was this her sweet home she had to leave? The garden brimful of flowers? Mr and Mrs Mistral, an elderly english-speaking couple appear; our quest attracts so much interest. Mr Mistral tells us this was an English house belonging to an officer in those old times. We try and rouse the person who now lives in one half of it, but only the lady is in and she doesn't know anything: this she tells us through a closed door not through unfriendliness but shyness of male strangers. Mr Mistral says 'let your granny guide you to the right place' and maybe she has.
We only have one more place to track down before heading for Lucknow; the fort of the Rajah Madhoosing  where Mrs Goldney stayed for eight days. The Rajah hid her, her children and companions in a 'long building within the fort' that she had visited socially before. It had been boiling hot, June, and the hot wind blew through slats in the wall, the room open to a courtyard on one side. She had been fed, given cloth and the use of the Rajas tailors, warm baths, anything she wanted. Charpoy bedsteads had been brought to her and 'right glad' she was to lie on them.
We find the fort, more palace than fort! Handsome and ornate. Some kind of festivity is taking place outside the gates with a marquee and decorations. We take photos through the railings of the one place we know with certainty that Mary Louisa Goldney, my Great Great Grandmother was, in her great escape from the mutiny.
Zeeshan  has gone off to find someone in charge and soon a housekeeper/ guardian appears. He lets us in so we can take photos. Zeeshan tells him our story. The housekeeper tells us the current Rajah is the Great Great Grandson of my Great Great Granny's Rajah and it's his birthday, hence the festivities. Kaye and I take a little walk around the lawn and on our return Zeenash tells us the Rani is coming down to talk to us
A beautiful woman in a red and gold sari appears from a doorway and greets us charmingly. Servants touch her sari hem before seating her in the garden. We sit too and she summons coffee, biscuits, snacks. She tells us that this story is very important to her family too and they have their own records of the same event. She sends someone off to photocopy our escape letters so she can read it properly. She says they are very busy with the birthday but want to make time to talk to us about it. Will we stay the night as their guests?
By this time Zeeshan is in a swoon of ecstasy, totally starstruck by his proximity to the lovely gracious Rani and the fact she is offering him a biscuit. Now the Rajah has arrived, walked over from his celebrations to meet us. He is dapper, handsome and charming. He knows the story. If we want to stay they will drive us to Lucknow in the morning. We are only allowed to decline this delightful offer by promising to meet with them again in Lucknow the next day; another invitation for when we are in Delhi. Now they must leave us, but please, rest an hour in the guest rooms, have a light lunch and pop into the celebrations before we drive on. The Rajah flicks the bees from my Parisian panama hat before I am turned into a human hive.
We are shown to an airy guest room and 'right glad' we are to lie down. After a snooze, Zeeshan, Kaye and I walk across the road to the marquee hosting the Rajah's birthday bash. He and the Rani are sitting on a raised dias with other dignitaries while people line up to give them presents. We slip in at the back, but Kaye and I are fetched, brought to the dias by minions. I kickoff my decathlon trainers before I ascend the stairs and they sit accusingly in the middle of the central aisle all by themselves in all their Peckhamness.
We are seated behind the Rajah and Rani, photographers jostle for our pictures. The Rajah gives me a special cloth to wear on my shoulders. The Rani invites us to the microphone to say a few words. I am overcome by the parallel-ness of our ancestors, close to tears. I wish the Rajah Happy Birthday, I thank their Majesties for their hospitality to us and I thank the Rajah's great great grandfather on behalf of my great great grandmother for giving her refuge and then I go on, a bit muddled, about hospitality being greater than conflict, but never mind. Kaye manages to get a word in too. Lots of clapping. I return to my seat, the Rani turns round and garlands us and then they give us both big hugs.
We return to the guest room for lunch , the tastiest food of our trip so far,  and before we make our way, a servant asks if we will wave goodbye and we do. The Rajah is still in front of his constituents but gives us the mime sign for 'until tomorrow'. Before we can drive off we have to sign autographs for local lads who want to be photographed with us.
I write this in our hotel room. It wasn't a dream. Today these hobbits dined among the elves.
Beautiful Darjeeling, poorly tummy, flying Varanasi tomorrow.
But Darjeeling is lovely.
We are upgraded to first class – possibly because of my Parisian Panama Hat – a short flight from Calcutta to Bogroda airport and then an ascending drive of about three hours. We stop at Kersheong, another place Kaye's grandfather had been a Jesuit priest. What was a seminary is now a college for Rangers. It is white, dilapidated, romantic and we are able to walk around its deserted corridors, explore little rooms that might have been cells, old kitchens with stone cupboards. Outside the Himalayan foothills flow downwards and up.
On to Darjeeling and the sweet Windamere (sic) Hotel, which has been serenaded by Jan Morris in a now wall-framed poem. We run into a jolly pair of retired London doctors who visit a different part of India every year. We have high tea, gins and tonics, a three course supper and sleep a wonderful sleep.
When we were at St Andrews in the seventies, Kaye and I were the worst getter-uppers and I still am. Nevertheless we heroically rise at 5am- 4am really if you include clock checking and investigating a chanting torch procession below our window at 4.30. We don woollies over jim jams for the walk around the hill path at the back of the hotel to watch the sun rise over the Himalayas third highest peak, kumechunga.
It's so long since I've seen the dawn, but the path is already full of joggers and people doing press-ups and sit-ups or making observances to Buddhist shrines. The sky is palest pinky blue, the peaks snow white. We think maybe that's it. But then the peaks turn fiery gold, a river of cloud boiling far below. The gold spreads. We turn to walk back and suddenly see the sun low in the sky, a crimson ball, not quite awake, not yet in solar animation, a closed red flower.
We go back to bed.
The rest of today is the toy train trip down the mountain to Ghoom, the monastery, the zoo and other proposed things, but my tummy is unlike itself, a few little cramps that remind me of the prelude to the deluge of childbirth; luckily it stays at that level but I feel off colour the whole day and the zoo just makes me feel sad, with the obsessively pacing jackals and snow leopards. Most of the native fauna are long ranging in their territories but here they are in their kitchen gardens. There is a breeding programme for endangered species, but don't their offspring end up in the same prisons? Worst than for London zoo animals. These ones can smell and see their habitats forbidden around them. Or maybe they don't think they are separated from it at all.
We have unreliable internet and no mobile roaming signal. Not only am I getting worried texts from David who hasn't heard from us, but critical messages from school because Hamish didn't ring  in sick or go to his guitar lesson. But I can do nothing and anyway I am on holiday!
Darjeeling is such heaven, and the Windermere Hotel in particular some kind of Agatha Christie Cole Porter haven of bliss, that it's hard to rewind to yesterday's day in Kolkata. Right now a hot water bottle is being inserted into my bed while a coal fire crackles in our room. We have had high tea, gins in the bar and dinner is inclusive, just like old fashioned family hotels. It isn't grand but it's the best ever; parlours, pianos, verandahs, Lots of old photos on the walls, a man looking suspiciously like my grandfather with Pith helmet -and it could be him – right place, right face.
But back to yesterday. We worked out that 1 Council House Street, the current tax office, which we'd found the day before, was not where my grandfather worked but where he lived, while in Calcutta; the post office, on the old Fort William site, his domain, domed like St Paul's, being a minute's walking commute round the corner. This is old Dalhousie Square, heart of "white Calcutta".
But even though we know the location, our elderly old intellectual gentleman guide has assumed our ignorance and so chooses to trust his ignorance instead, sending the protesting driver round in circles till we are trapped unmoving in the hysterical pulsating traffic that I can only call 'the breath of Tendulkar' as the whole city has gone cricket bonkers.
At last he capitulates and we find it again, but just a glimpse up at the old apartments. It doesn't matter that I can't see inside, I can imagine it. But we've also gone to the wrong christening church, not because he couldn't find it but because he assumed I'd made a mistake and now we are on the wrong side of the traffic jam again. I'm thinking I've spent all day in a car.
Then everything changes. We've looked at Victoria memorials, writers buildings, parliament houses, cathedrals, in an irritated flash. We suggest the old coffee house. It's not on the itinerary but our man softens, relaxes. The coffee house is marvellous, great yellowing room with balcony for illicit trysts and deals, fans spinning, full of students, business people, old people, couples, groups of old men. Everyone knows our man and he's pleased, restored. When each of us is in the loo, he apologises profusely about us getting lost, is upset we miscommunicated. He reminds me of my old Hungarian acrobat teacher Eugene, an absolute old bugger but a fabulous old gent.
Reciprocating, our man takes us to the Marble Palace, also not on our itinerary, and we have no tickets which you need to get 24 hours in advance. He sweeps us in, soft words to the guards, tells us the gossip and the history. It is amazing. A palace full of dusty rooms piled with mad antiques, marble floors like carpets, birds twittering in a sunny courtyard beyond-while the interior remains in dust-hung gloom. Now he has become A wonderful knowledgable guide and we rise to each other's occasion.
We get to my father's church, The Holy Rosary.  He finds a way in. It is a white Portuguese church full of painted statues. And there is the font, plastered with colourful cherubs, where my father was baptised all those years ago, an innocent baby, loved by his parents with everything in the future, hope, promise, before time undid him.
Baptismal Font                                                  The Old Coffee House
We part with the guide, good friends; so glad we hung in there and negotiated the rapids of misunderstanding to have a brilliant day.
In the evening we do a bit of shopping in the new market, have great fun haggling and get the stuff we want. We go into a little shop in the market where they don't have what we want but the man, who has spent time in England doesn't want us to leave. There are four men in there and the two doors are suddenly shut. Three are polite, anxious, but the man from England is sly, turning his talk in a neural linguistic programming kind of way, dealing out key words like 'honour'. He has sent his boy to fetch more stuff but frankly we are equal to the game of time wasting.
I am not intimidated but bored. The doors are shut to keep us from other potential shops' wares, I think. I know he has nothing we want but he keeps going, his eyes despise us, his phone rapidly texting….Where am I from, why am I here, what do I do? Well I am from Peckham, my father was born in Calcutta, and I am a stand-up comic. And Kaye is from Australia. One of these phrases is the magic code and we are out of there. It's like El Cid on the beaches of Spain on his white horse, the hordes parting. Yup, it was like that.