After a morning in the chikan workshop of Lucknow where I buy a nightie voluminous enough to camp in, we are to take the train to Delhi, first class, a six hour journey of anticipated scenery and restful bliss.
At the station our man from Greaves Travel finds us a porter, a boy about the same age as my own, maybe younger, young teens. He wears a faded red tunic. He has the face of a film star. He puts a soft woollen cloth on his head and then raises my suitcase up onto it, balancing and carrying it aloft while pulling Kaye's along at the same time by the handle.  But our train isn't ready to depart for another half an hour and he twitches anxiously and obviously at all the wasted portering opportunities lost to him as he stands around on the platform waiting till he can offload our stuff. At last it's time to board and the porter lifts our cases onto overhead racks. Our man from Greaves doesn't tip him very much so we bung him a bit more, as he could have made some money in all this time he has been hanging around with us.
Armed with books, ready to recline and snooze after all those early mornings, we settle into our comfy but slightly scruffy seats with their bumpy bottoms. Railway food comes round several times, delicious veggie pasties, tomato sauce , a  little saucer of dry something or other pudding, which tastes like halva but isn't.  Each passenger receives a small thermal jug of hot water for our tea, a clever time saving device, they are collected minutes later and no need to hover over us with boiling liquids.
Then the wailing starts; a sick child, earache by the sound of it, shrieking piercingly and sorrowfully, for the next five hours. The mother jostles him, walks him up and down, feeds him, waters him, but doesn't give a different carriage a go at any time- which I ungallantly feel might help. I do feel very sorry for him, remembering my own children when they suffered like that, but  this unrelenting noise is the main sensory feature of what I hoped would be a  journey of staring out the window looking at unfolding landscape to a soundtrack of my own daydreaming.
We arrive in Delhi, this time a porter puts both suitcases on his head, one on top of the other,  and carries them up and down two or three different flights of stairs to where our car is waiting.
We get to our hotel late, but not too late to have a gin and tonic and some light grub before beddy byes.
I have been to Delhi before- twice. The first time was fleetingly in January 1972, at the age of 15, on my way back from visiting my long estranged army father in Hong Kong. It was the time of the Bangladesh war of independence, which involved India and Pakistan; Indian national security was at Level Paranoid and my flight was stopped overnight and my passport inexplicably confiscated. Three of us, me and two other younger schoolchildren, were put in the New Delhi Hilton overnight. Although we were given  a luxurious room each,  we were so terrified that we asked for camp beds to be brought in so we could share just one, and then so excited that we ordered curry for breakfast.  The next morning we glimpsed India through the murky panes of the airport bus as it took us back to the airport to resume our flight home. I remember the smell, colour, dust, bustle, the last bit of an amazing and exotic Christmas holidays.
The second time, twenty years later, in 1992, I landed in Delhi the day after the Hindus tore down the mosque at Ayodiah, bringing India to the brink of civil war with troops on the streets and curfews at every major historic and religious site. I spent a week hanging around, wondering what to do and where to go next, immersing myself in the old town and missing  New Delhi entirely.
This time, New Delhi is a complete surprise, Doric temples of beauracracy gracefully rising from wide avenues. I notice with this visit, as I've noticed in all the places we have seen so far, there aren't the beggars that there were last time, nor alarming looking people with terrible deformities and handicaps. Have they been rescued by social services or just hidden? 
We visit New Delhi, The tomb of Hamuyin and the Lodi Gardens. In the evening the Rajah's daughter collects us from our hotel and we go to dinner at their Delhi house. This seems to be the place where they can relax and be themselves. A chubby Labrador greets us in the garden; we sit and explore our family shared history. They want to hear some of my jokes and are simultaneously shocked and entertained by my husband material. I have to reassure them that David wrote most of it so it's OK! Bombay Sapphire gin is delicious and we eat late, India style, delicious fish, roasted on the bone, beautiful veggie and saucy accompaniments and a lovely pudding.
A journalist from the Times of India phones up and I give a telephone interview about my journey to retrace the steps of my Great Great Grandmother and how it has led us to this night, dinner with our new chums.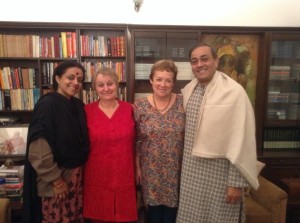 http://www.bbc.co.uk/hindi/india/2013/11/131117_mutiny_revisited_amethi_aj.shtml
 It is our last evening in India. We exchange fond farewells, hugs, email addresses, promises of everlasting keeper-up-ering. We get back in the big car and the Rajah and his daughter drive us home to our hotel.
Farewell India, Hello Peckham.