Comedian Charmian Hughes studied clowning under Philippe Gaulier and Theatre de Complicite but unable to uphold the mime vow of silence, ran away to play stand-up comedy clubs throughout the nation entertaining everyone from members of the House of Commons to 'Lifers' in prison (not to be confused). Charmian has stalked Chris Huhne and gave Frank Skinner his first avocado.
"Charmian Hughes even in such a short time seems to give a sense of both the gravity and the humour of her comic potential."
Broadway Baby
http://www.beyondthejoke.co.uk/content/1403/interview-rarely-asked-questions-–-charmian-hughes
for info and reviews of  RAJ RAGE  Click on header
Stand Up Comedy
 Coming Soon! a new show for Edinburgh 2015!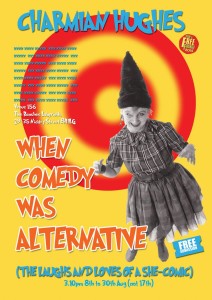 CHARMIAN HUGHES: WHEN COMEDY WAS ALTERNATIVE (THE LAUGHS AND LOVES OF A SHE-COMIC)
3.10pm Aug 8th-30th (not 17th) Venue 156, the Banshee Labyrinth, 29-35 Niddry Street EH1 1LG
Once upon a time, in the olden 1980's days, when Left was Right, and the goodies had to stand alone against the tyranny of Margaret Thatcher armed only with only an Arts Council Grant, then truly, Comedy was Alternative.
Forged from these revolutionary fires came some of the finest comedians of their generation, plus Charmian. Some of them are now on your telly, some faded away into insanity; but with a career spanning 1984 to the present day, Charmian continues to happily tread a space somewhere in between.
Now she tells all in a new show, When Comedy Was Alternative (The Laughs And Loves Of A She-Comic), packed with jokes and stories- her first open spot in the bear-pit of the notorious Tunnel Club, death-threat heckling, Frank Skinners first avocado, a doomed love affair with Tinky Winky, and a compulsory drugs hell.
When Comedy Was Alternative looks at a time when people really believed Comedy had the power to change how we think and live. And shows how the madness of comedy still can be a personal force of psychological redemption.
 http://www.beyondthejoke.co.uk/content/1786/edinburgh-preview-charmian-hughes