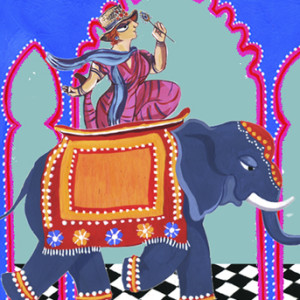 A new show about old times.
Warning! Contains History!
In 1857, my great great grandmother, Mrs Goldney, escaped the Indian Mutiny.
In 2013 I went to India to look for her…and found that for some people, the past is still a matter of life and death.
Dangerously true tales of murder, drug-crazed moon-worship, human banana sacrifice and shopping.
Featuring the original 1857 great-great grandmotherly escape letters.
'Humour darker than a bar of Green and Black's 85%' (Leicester Mercury.)
'Like Josie Long's mum' (Chortle.co.uk).
'Charming Ribaldry' (The Guardian)
Edinburgh Festival with the PBH Free Fringe
2-24th August (not 12th) at Banshee Labyrinth (venue 156) 3.10pm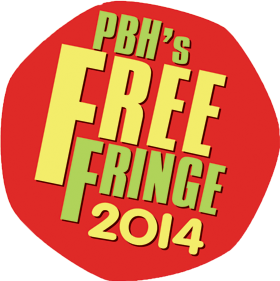 One of Arthur Smiths Top Tips for the festival.
http://www.arthursmith.co.uk/blog/ed-fringe-2014/
one4review | On 06, Aug 2014 ****
A good story told well doesn't necessarily have to be funny to be engaging, but Ms Hughes' managed to be amusing into the bargain as well. This piece of comic theatre intertwines the story of Charmian's visits to India with that of her ancestor, who left India after the Mutiny. Charmian plays all the characters, literally wearing different hats – but these are only visual indicators of characters created through syntax and tone and posture.
The structure worked really well with the pace of each story never outstripping the rest, and all arriving at the end at the same time. Charmian's delivery was fluent and confident, with the air of someone used to conducting a conversation with a whole roomful of people (like a teacher or a lecturer). Not a straight stand-up routine, but a woman with a good story told well.
Reviewed by Laura
and…What The Audience Thought (from Edfringe.com Audience Reviews)-
Wilf Hashimi
Charmian always comes across as someone who shouldn't really be allowed to be up this late, but just this once they've let her, and we are privileged to be joining her on her exciting but illicit midnight feast. Last year, she created the tone of a gentle raconteuse, subverting the usual genre of standup. This year, she has produced a tighter, well-crafted piece which carefully and skilfully weaves three narratives into one linear journey through a place called India, which I've never heard of, because I'm not as middle-class as her. There were several laugh out loud moments, but above all there was the feeling of warmth and affection that is her true hallmark. There was a slight, outside chance that we might all have been subjected to a fatal catastrophe while watching today's show – but we were up for that: as she pointed out, we could have carried on as ghosts. What an engaging show. The time flew by, and it was bedtime all too soon. Roll on the next midnight feast! Where next, Charmian? Africa?
Really enjoyed your show again this year Charmian. You did it again – what an amusing and intriguing journey through Anglo Indian history. Thanks and I hope we see you again next year – Ed
This show is a hoot. Captivating, wonky and very funny intermingled tales of Charmian's and her great-great-great-grandmother's travels in India. Brilliant story-telling, original and delightfully eccentric. Do not miss.
An exciting story is interspersed with convivial contact with the audience. When I went, the crowd were often in hysterics at Charmian's jokes and audience interaction, which punctuated her clever weaving of story strands. Her warm-hearted stage persona instantly won her audience over. I was riveted throughout this fascinating story. A delightful 55 minutes, with lots of laughs. If you want to feel uplifted, see this show!
---